CCIM and UA MRED Team Up for Higher Education
Tuesday, November 18, 2014
The Southern Arizona Chapter of CCIM and the Masters of Real Estate Development (MRED) hosted their first joint project this week. The seminar on Commercial Real Estate Investing was well attended by over 50 students and faculty and more joint projects such as this are under discussion for the future.
The Master of Real Estate Development (MRED) is through The University of Arizona's College of Architecture, Planning, and Landscape Architecture (CAPLA) and offers a degree focusing on sustainable and responsible development with emphasis on: public/private partnerships, transit-oriented development, sustainable cities, and green building.
Gina Chorover, Program Coordinator, for MRED had contacted the CCIM Chapter earlier in the year to see about having a CCIM speaker on commercial real estate financing. Jason Wong, CCIM, representing the Chapter, pulled together a panel of experts to round out a cutting edge panel discussion on commercial real estate financing.
Panelists were George Larsen, CCIM, of Larsen Baker, Duane Froeschle President of AZ Division of Western Alliance Bank in Tucson and Steve Ponzo, Vice President of Wells Fargo in Tucson.  Jason Wong, CCIM, of Red Point Development acted as moderator.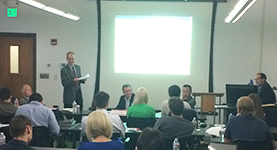 The focus of the seminar was to bring real life experience to the discussion of commercial real estate investments with the metrics used for investments, such as gross rent multipliers (GRM), capitalization rates (CAP), cash on cash returns and internal rates of return (IRR).
Real commercial projects were then evaluated for net operating income, the loan process discussed and how leverage is used for a higher rate of return.
Jason Wong says, "Our CCIM Chapter is discussing future projects with the Masters of Real Estate Development program as well as offering our assistance with the internship and mentorship program." This is the second year for the MRED program at the University of Arizona.
James Robertson, President of the Southern Arizona CCIM Chapter added, "It's all about giving back to the community and we're certainly encouraged judging by the reaction to today's event."
The CCIM Institute is a national organization for commercial real estate practitioners who wish to elevate their business practices through education and networking. The Institute provides cutting edge education and awards its CCIM designation (Certified Commercial Investment Members) to Realtors who complete the extensive coursework, pass a comprehensive exam and demonstrate that they have qualifying experience in the field.
The Southern Arizona CCIM Chapter has 22 CCIM designees and 112 CCIM candidates and associate members. The Chapter provides networking and mentoring to the Tucson commercial real estate community.