PlaceMakers and Strong Towns Turn to Arthur C. Nelson for Insight on How the Shifting 'Boomer Bulge' Impacts America's Housing Market
Who
Arthur C. Nelson, Professor Emeritus of Urban Planning and Real Estate Development
What
Featured in PlaceMakers and Strong Towns
"If we can't adjust ways in which we plan, build and finance housing, the results are going to be devastating for substantial segments of the population," says Arthur C. Nelson, University of Arizona professor emeritus of urban planning and real estate development, to kick off a recent two-part interview with Ben Brown for PlaceMakers.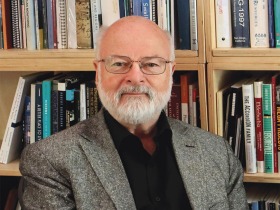 The fundamental problem, says Nelson, is "too many homes for too few buyers and renters in many corners of even our most vibrant metropolitan areas—and more important, to large swaths of the nation." That's because baby boomers (those born between 1946 and 1964) and Gen-Xers (born between 1965 and 1980) are aging and "many, perhaps most of them, will want to exchange their larger homes on larger lots for easier-to-manage homes on smaller lots or in attached homes."
Meanwhile, "tens of millions of millennials—born between 1981 and 1997—will be forming households with children but may not want boomers' large homes on large lots." So they'll be competing with baby boomers for those smaller homes, "especially in walkable communities." Likewise, those in Gen Z (born between 1998 and 2015) will become starter home households also looking for smaller homes, "usually as renters," says Nelson.
That demand is "going to overwhelm the current and projected supply of homes in those categories unless we change the ways we're planning and building for that future," on one hand, and strand some seniors in homes they can't sell, on the other. "Though not everywhere," says Nelson. "The most vulnerable markets of the future are likely to be many of those vulnerable to social and economic distress now, places with over-concentrations of older, lower-wealth homeowners and fragile economies. Places distant from metros with the housing types and services most likely to attract career-building younger families."
Dig into the data and more behind Nelson's analysis by reading "The Shifting Boomer Bulge: Under-appreciated Impacts Could Make the Current Housing Crisis Worse" Part 1, published March 7, 2023, and Part 2, published March 19.)
In a February 9 article in Strong Towns, Ben Abramson references Nelson's widely cited 2020 Journal of Comparative Urban Law and Policy article, "The Great Senior Short Sale or Why Policy Inertia Will Short Change Millions of America's Seniors," in asking a fundamental question about these aging homeowners' homes: "Seniors Have Large Suburban Houses To Sell. Does Anyone Want Them?"
Noting that many of these larger homes in car-dependent suburbs do not support aging in place, or have HOAs or zoning laws that prevent owners from adding an accessory dwelling unit for a caretaker, Abramson writes that Nelson's research "points to a potential doomsday scenario for some senior homeowners."
"Even if the worst predictions for senior owners—failing to cash out of their existing homes and struggling to find suitable replacements—don't materialize, the upcoming changes reflect a major misalignment in the real-estate market, and a direct challenge for North American municipalities," writes Abramson.
Read the full Strong Towns article to learn more about the challenges, and some possible policy solutions, facing these municipalities.
Nelson, an emeritus professor who joined the UArizona College of Architecture, Planning and Landscape Architecture in 2014 after serving as presidential professor and director of the Metropolitan Research Center at the University of Utah, retired in May 2022. As the author of nearly 30 books and more than 400 other scholarly publications and principal investigator or co-principal investigator of more than $50 million in grants, his is ranked 9th nationally among more than 1,000 planning professors in the quality of published work based on scientific metrics.