CAPLA's Ryan E. Smith Leads Efforts on HUD Research Roadmap to Address Challenges in Offsite Housing Construction
Who
Ryan E. Smith, Director, School of Architecture and Professor of Architecture
What
Publication: Offsite Construction for Housing: Research Roadmap
---
Ryan E. Smith, director of the School of Architecture at the University of Arizona, is lead author on a report outlining policy, finance, labor and other parameters for growth of offsite housing construction in the United States. Offsite Construction for Housing: Research Roadmap, which was co-authored by Ivan Rupnik, Tyler Schmetterer and Kyle Barry, is a strategic report that presents the key knowledge gaps and research needs to overcome the barriers and challenges to offsite housing construction.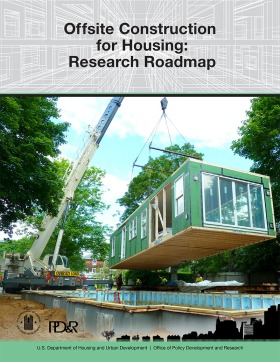 The report was created for the U.S. Department of Housing and Urban Development in partnership with the National Institute of Building Sciences and MOD X. Smith is a founding partner of MOD X, a global strategy advisory and knowledge exchange network that integrates academic, industry, government and related nonprofit sectors in the prefabricated and volumetric modular offsite construction industry.
"Offsite construction has the potential to deliver more affordable single and multifamily housing at scale," says the National Institute of Building Sciences, but "offsite construction for housing in the U.S. faces several challenges to increase uptake and adoption"—particularly compared to the United Kingdom, Japan and Sweden.
The report, which was released in February 2023, introduces key concepts in offsite construction for housing and identifies knowledge gaps that, if filled, says HUD Principal Deputy Assistant Secretary for Policy Development and Research, "could unleash the potential of offsite construction to help meet the country's growing housing needs."
Specifically, Offsite Construction for Housing offers an industry-wide roadmap for governments, universities and companies to come together to advance offsite construction for housing. It covers six topical areas in need of coordinated research efforts, with sub-topics and specific research questions listed to help answer the knowledge gaps:
Research Topic 1: Regulatory and Policy Framework

Research Topic 2: Standards and System Performance

Research Topic 3: Capital, Finance, and Insurance

Research Topic 4: Project Delivery and Contracts

Research Topic 5: Labor and Workforce Training and Management

Research Topic 6: Business Models and Economic Performance
"Through this research we discovered that although there are technical challenges to scaling industrialized housing production in the U.S." says Smith, "the barriers and limitations to uptake and evolution are primarily contextual, including regulations, insurance, finance, contracts, workforce and economics."
Smith, who joined CAPLA in 2022 as the director of the School of Architecture, is a professor of architecture. He has been teaching, researching and consulting on offsite construction and housing, modular product research and development, business strategy and market assessment for nearly 20 years. He is the author of numerous offsite construction reports, papers and books, including the seminal Prefab Architecture: A Guide to Modular Design and Construction, published in 2011. Smith is the founding past chair and current board member of the National Institute of Building Sciences, Offsite Construction Council. He serves on the advisory board of Ivory Innovations for Housing Affordability, is a fellow of the Modular Building Institute and serves as a senior research fellow in the Centre for Offsite Construction + Innovative Structures at the Institute for Sustainable Construction at Edinburgh Napier University.