USGBC Senior Fellow Mark Ginsberg Inspires and Empowers the Next Generation of Green Designers, Practitioners and Leaders
Who
Mark Ginsberg, UArizona Alumnus and USGBC Senior Fellow
What
Providing Inspiration to Students and Supporting Ginsberg Green Fellowship
University of Arizona graduate Mark Ginsberg has long been a leader in sustainable design, energy efficiency and renewable energy. From helping to launch the National Association of State Energy Officials as the director of the Arizona Energy Office, to supporting the formation  of the U.S. Green Building Council (USGBC) and Leadership in Energy and Environmental Design (LEED) programs while a senior executive at the U.S. Department of Energy (DOE), Ginsberg's vision for a more sustainable America and world has resulted in more efficient and resilient design and practice across the built environment industry.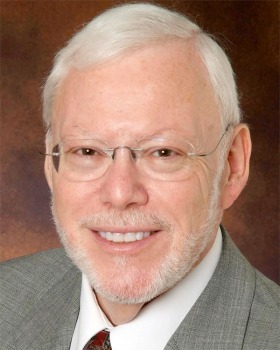 Now, as the principal of Ginsberg Green Strategies and the inaugural senior fellow of the USGBC, Ginsberg is helping students at the College of Architecture, Planning and Landscape Architecture and UArizona to become the future visionaries the world needs to continue charting a more sustainable path.
"I would like to inspire and empower the next generation of green designers, practitioners and leaders," he says. "In my mind, the green economy is the solution to a sustainable, resilient, clean, profitable, equitable and successful future. The climate imperative demands it. Our good Earth needs it."
Of particular focus for Ginsberg today is helping students acquire the LEED professional credentials as they move into their green building careers. "A LEED credential denotes proficiency in today's sustainable design, construction and operations standards," notes the USGBC LEED website. So far, more than 200,000 professionals have earned a LEED credential, advancing their careers while creating more efficient and sustainable buildings and communities.
"Much like a degree validates a student's education, I believe a certificate like the LEED AP or GA provides a goal and subsequent validation," says Ginsberg. "I believe those credentials will help students in job searches, making them more competitive and attractive to hiring officials. I am confident that will help those students find a more satisfying and productive career, one that will leave a place better than they found it."
 
Leaving a place better than how it was found is a premise instilled in Ginsberg early on by his family—and a clear outcome of his accomplished professional journey. "I was taught to give back, to contribute to the public good," he says. "In all of my work, I've tried to do something lasting, something of significance—something that would leave a place better than we found it."
At CAPLA, Ginsberg is supporting the Ginsberg Green Fellowship, which provides funding for CAPLA students to pursue LEED certification. Given Ginsberg's UArizona undergraduate degrees in English and government, a fellowship in support of a technical pursuit may seem surprising. After all, he was first a business owner and then a government executive, not an architect, engineer or designer.
But his liberal arts education "taught me how to think, how to be curious and to understand nuance," he says. As a UArizona student, he also participated in the speech arts and debate team and student government, which taught him, on the one hand, "persuasion, how to see both sides of an issue and how to marshal effective points," and, on the other, "partnerships, cooperation, compromise, leadership and responsibility."
After graduating from UArizona, Ginsberg ran his own dry cleaning company for nearly a decade before working for Arizona Governor Bruce Babbitt in the Arizona Energy Office, eventually as energy director. "As a generalist and not a scientist, my education and experience allowed me to bring new insight, creativity and a spirit of collaboration and partnership to government agencies," he says.
Once at the U.S. Department of Energy, where he led the Federal Energy Management and Building Technologies programs, among other initiatives, he notes he was "lucky to be in the right place at the right time" for involvement in other cutting-edge projects, including leading the Greening of the White House initiative under President Bill Clinton, leading design of the greenest Olympic Village at the 2008 Beijing Olympics, overseeing a research portfolio that helped create or advance solid state (LED) lighting and high-efficiency construction (such as low-e windows and net-zero energy buildings) and participating in pioneering international dialogues and partnerships around energy efficiency and renewable energy.
 
Since leaving the DOE in 2011, Ginsberg's work has focused on making cities greener, in multiple contexts. As a USGBC senior fellow, he helped develop and apply the LEED for Cities and Communities platform in the U.S., China and around the world. Throughout his career, Ginsberg has worked globally, most notably in China, India and the United Arab Emirates, to help governments and agencies implement progressive energy efficiency, renewable energy and climate programs.
That Ginsberg is willing to share his broad experience in—and influence on—sustainable design, energy efficiency and renewable energy with students is a boon to CAPLA and UArizona. "We are lucky enough, and worked hard enough, to have an education," he says when offering advice to these students. "Use it responsibly. Be curious, inquisitive. Hone and use your creativity, your unique insights and your problem-solving skills. Remain positive and solution-oriented."
Most importantly, he adds, "remember that our work should make people's lives and our good Earth better."
 
---
Learn more about creating fellowships and other student support initiatives by contacting Angie Smith, director of development and alumni affairs, at angiesmith@arizona.edu.