Dr. Esther M. Sternberg Authors Acclaimed New Book, 'Well at Work: Creating Wellbeing in Any Workspace'
Who
Esther M. Sternberg, M.D., Professor of Architecture, Landscape Architecture and Planning (Joint Appointment)
What
New Book: Well at Work: Creating Wellbeing in Any Workspace
  
"There was a time when most office workers didn't pay much attention to how aspects of the physical environment around them—the lack of windows, harsh lighting, the poor air quality and ventilation, the rows of desks or cubicles crammed too close together—might be impacting their overall health," writes integrative health pioneer and acclaimed University of Arizona researcher Esther M. Sternberg, M.D. in her new book Well at Work: Creating Wellbeing in Any Workspace.
But that all changed with COVID-19. And with the onset of the pandemic, Sternberg has been refining her research on wellbeing in the built environment to a singular conclusion: "Today, not only do we demand spaces that have been designed to reduce the spread of infectious disease, we demand more comfortable, calming spaces designed to support all aspects of physical and emotional wellbeing."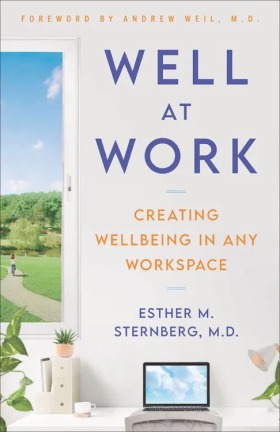 Sternberg, who is the Inaugural Andrew Weil Chair for Research in Integrative Medicine, founding director of the Institute on Place, Wellbeing and Performance and professor of architecture, landscape architecture and planning (by joint appointment) at the College of Architecture, Planning and Landscape Architecture, is internationally recognized for her discoveries on the mind-body-stress interaction in healing as well as the impact of built environments on integrative health and wellness. She has advised the World Health Organization, U.S. Institute of Medicine, Vatican and more, and has been featured on national stages, including CBS 60 Minutes, SXSW, NPR, ABC News and others.
In Well at Work, her third book, she takes mind-body design into the post-COVID era to offer a menu of simple steps anyone can take to design their workspace—at home, the office or anywhere in between—for health, happiness and productivity. Timed to the end of summer break as workers are logging back in from vacation, Sternberg's new book encompasses not only the research conducted during the pandemic, but also her pioneering, decades-long research to reveal that staying well at work need not be a luxury. With tips on how to design spaces for wellbeing across the seven domains of integrative health (stress and resilience, movement, sleep, relationships, environment, nutrition and spirituality), and even the air we breathe, workers of all kinds will learn:
Optimal lighting and noise levels for reducing stress and improving focus

Why open-plan offices can keep workers more active

The myriad benefits of access to nature (and how to bring nature indoors)

Office layouts that foster social interactions but not distraction

Foods to enhance cognitive performance 
In the book, which was named a "Top Ten Lifestyle Book" by Publishers Weekly, Sternberg introduces readers to scientists and doctors, building science professionals, and designers and architects—including other CAPLA faculty—who are striving to make workplaces more conducive to wellbeing.
Well at Work includes a foreword by Andrew Weil, M.D., who writes, "As we continue to work toward making integrative health an essential part of our everyday activities in order to prevent illness and optimize health, the role of the built environment will receive more and more attention. This book will give you a sense of the future of this science and the exciting innovations it will bring. And Dr. Sternberg will provide the guidelines to help you design your own workspaces to optimize your wellbeing."
Well at Work is published by the Hachette Book Group, and is available now.
And keep up with Sternberg on her new blog at Psychology Today, beginning with her first entry published on August 31, 2023: "Creating Wellbeing Spaces to De-Stress and Keep You Well".