Feature on Tucson Urban Food Forest in the Guardian Quotes Sustainable Built Environments Professor Ladd Keith
Who
Ladd Keith, Assistant Professor of Planning and Sustainable Built Environments
What
Quoted in The Guardian
A March 21, 2023 feature on Tucson's Dunbar/Spring neighborhood in The Guardian, "'A living pantry': how an urban food forest in Arizona became a model for climate action," quotes CAPLA Assistant Professor of Planning and Sustainable Built Environments Ladd Keith.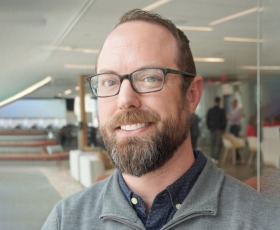 "If climate change continues at its current pace, cities in the Southwest such as Tucson could experience as much as 45 days more per year with temperatures above 90F [32C] by 2100," says Keith in the article.
Keith's quote follows from a truth about the inequitable effects of extreme heat: "Heat is felt by all, but not equally," says the article. "In Tucson and across the U.S., low-income areas are disproportionately warmer than affluent ones, putting those residents at higher risk of heat-related illnesses."
The Dunbar/Spring neighborhood, near downtown Tucson, is a lower-income area—but residents, through programs such as Dunbar/Spring Neighborhood Foresters urban forestry initiative—are working hard to offset rising heat in their neighborhood and Tucson more broadly.
Read the full article in The Guardian.
Keith, who joined CAPLA in 2009, has over a decade of experience planning for climate change with diverse stakeholders in cities across the U.S. His research explores heat planning and governance with funding from the National Oceanic and Atmospheric Administration, the Centers for Disease Control and Prevention, and the Department of Transportation. He is also a faculty research associate at the Udall Center for Studies in Public Policy. In addition to founding CAPLA's Bachelor of Science in Sustainable Built Environments, Keith teaches public participation and dispute resolution as well as climate action planning.